From our manufacturing base in Auckland, Baker Cranes carries out maintenance and servicing on all brands of cranes. We have an experienced team of service staff who can promptly resolve your problems. We are responsible for maintaining around 1000 cranes of various brands throughout New Zealand.
We Offer:
Inspection
Service and Preventative Maintenance
Repairs and modifications
Upgrades and modernisation
Arrange statutory 3rd party inspections
We stock a large range of spare parts for ABUS cranes. In addition, we have back-up from Eilbeck Cranes in Australia, and air-freight regularly from Germany. We can usually obtain parts for all makes of cranes in use in New Zealand.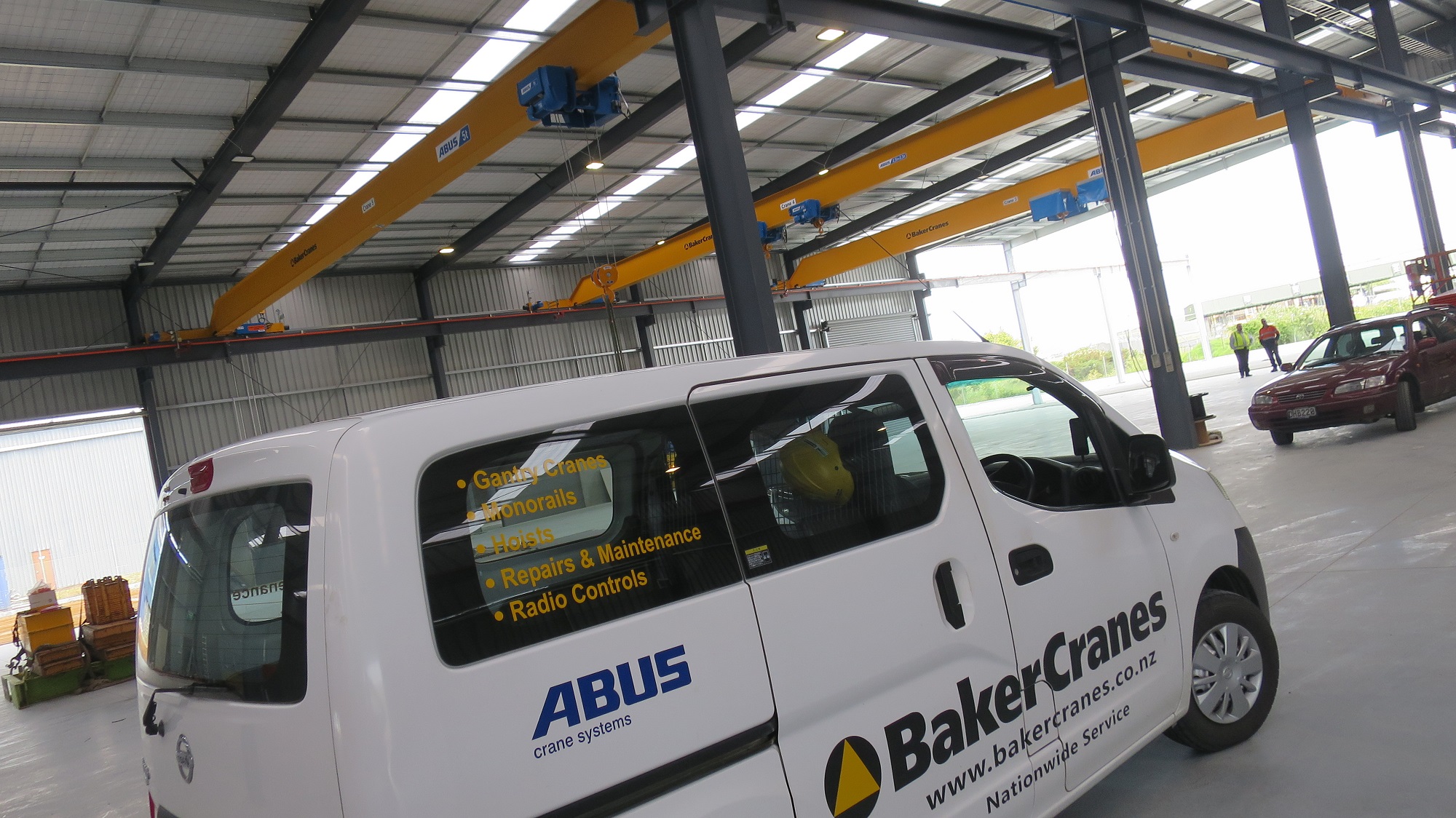 Our service staff are kept up to date with on-going technical and safety training. This includes technical training carried out at ABUS head office, Germany, and at Eilbeck Cranes, Australia. Also, as we are a crane manufacturer, our service staff are involved in the assembly and fitting out processes and therefore become fully conversant with the electrical and mechanical systems of our cranes.
Regular Inspections:
Regular preventative maintenance is necessary to ensure equipment is operating in a safe condition, and to minimise unscheduled downtime due to breakdowns.
We have a computerized maintenance system which provides reminders of service work due and records work carried out. From this we generate records and reports which provide for each crane a management record of crane maintenance. This assists with compliance with the "Approved Code of Practice for Cranes".
Assessment of Suitability for On-going Use:
Modern crane equipment is designed for a finite life of 10 years, based on the anticipated amount of daily use. The equipment must be assessed as to whether the actual use has been greater or lesser than the anticipated use and the actual remaining life calculated. Baker Cranes can assist customers in determining the remaining life.
Engineering Backup:
Baker Cranes Service team has the back-up of a fully equipped manufacturing workshop and professional design and drafting engineers.
Partnership:
As noted above cranes must be maintained during their working life and this means having an on-going relationship with a competent service company. Baker Cranes strives to maintain good working relationships with customers and offers a "whole life" service. This includes having competent service staff available and maintaining stocks of spare parts at all times.
Quality and Safety:
Baker Cranes is committed to quality and safety in all aspects of crane service and repairs.